Reading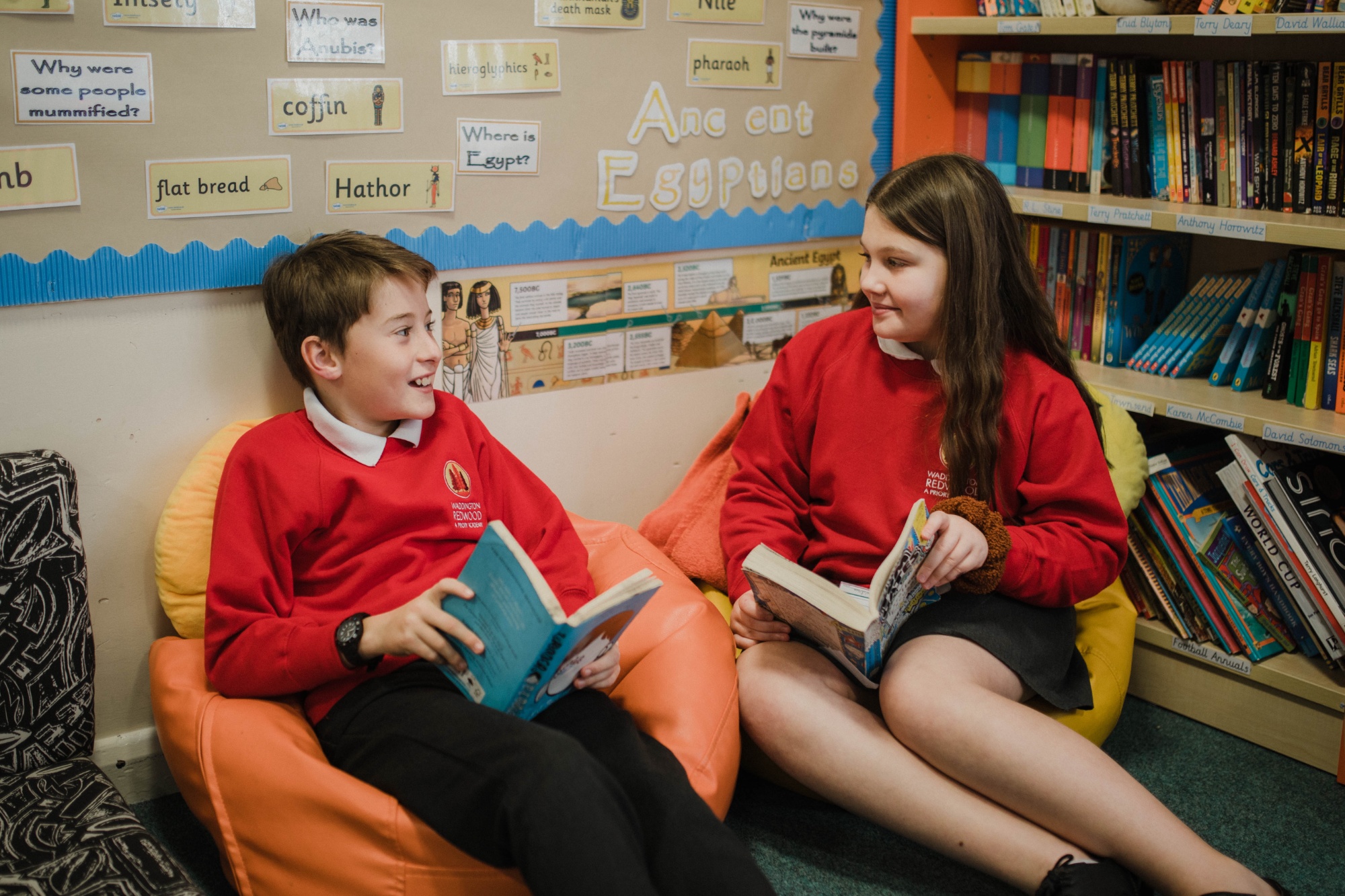 At Waddington Redwood, we believe that the essential characteristics of good readers are:
• Excellent phonic knowledge and skills.
• Fluency and accuracy in reading across a wide range of contexts throughout the curriculum.
• Knowledge of an extensive and rich vocabulary.
• An excellent comprehension of texts.
• The motivation to read for both study and for pleasure.
• Extensive knowledge through having read a rich and varied range of texts.
---
Learning to Read - Reading to Learn
At Waddington Redwood Primary Academy, we know that reading is integral to children's learning and is the key to academic success. Alongside our phonics curriculum, our reading curriculum aims to equip children with the skills they need to become fluent readers. As well as this, our reading curriculum also helps to develop children's communication, vocabulary and language skills.
Reading in Early Years and KS1
In the Early Years and Key Stage One, children read phonically decodable books. These books link to the sounds being taught in phonics lessons, enabling children to practise identifying, saying and reading sounds in context. Children are given books matched to their phonic skills. We also encourage children to reread texts several times. It is vitally important that children repeat the reading of texts in order to become fluent readers with good pace and understanding. Children are given books matched to their phonic ability to enable them to be successful in the texts they are reading. Successful readers are able to read at least 95% of the text given with accuracy and fluidity.
As well as equipping children with the skills to become fluent readers, we aim to develop their love of and pleasure for reading. Children have access to a variety of phonics decodable fiction, non-fiction and traditional tale stories to help engage and excite children in their reading.
Reading in KS2
In Key Stage Two, children continue to progress through the higher levels of Big Cat Collins texts until they are ready to become free readers. Children will spend an individualised period on each level; until they are confident with the vocabulary they are exposed to and are able to comprehend the texts fully. This means that children may reread certain key texts several times. Research shows that repeated reading and frequently reading aloud aids children's fluency and ability to move from an emerging reader to an independent reader. Our Big Cat Collins texts include quality fiction, non-fiction and poetry to give children an exposure to a wide variety of text types as they are developing as readers.
Once they have progressed to free reading, children have access to our Key Stage Two library, which holds hundreds of top quality texts from children's literature, including classic novels, poetry, fiction and non-fiction. Our library is regularly updated and children are able to borrow books appropriate for their age and reading ability, as all our books are clearly labelled so that children can easily choose their next adventure.
We promote reading for pleasure across the curriculum and we encourage children to read widely. In Key Stage Two, children participate in Book Bingo, which challenges them to read a selection from '100 books to read in Lower Key Stage Two' and then progress to '100 books to read in Upper Key Stage Two', with the aim of encouraging children to experience quality texts and authors they may not have considered before.
Reading for pleasure is promoted year round at Waddington Redwood Primary Academy. As well as events such as World Book Day, Scholastic Book Fairs, regular author visits and Readathons, children have a daily story time, from Reception to Year 6, which is an excellent opportunity for children and teachers to share in the love of reading.
Across the Academy
In class, children read a selection of texts from the Pie Corbett's Reading Spine- a collection of the very best literature, both classic and modern, for each year group. This becomes the focus for much of their learning, including as a stimulus for creative writing. During reading lessons, children are explicitly taught reading skills as well as reading fluency. Explicit teaching of reading skills, including inference, retrieval and prediction, encourage children to be strong independent readers across all text types so that they leave Key Stage Two able to comprehend and analyse literature confidently.
Our reading curriculum focuses on developing children's skills so that children in Early Years and Key Stage One are learning to read and in Key Stage Two, children are reading to learn. As well as focusing on the skills needed to read with fluency, our reading curriculum also focuses on developing the children's comprehension and inference skills so that the children can understand the texts they are reading. We also expose and engage children with rich, interesting and high quality vocabulary to broaden their language skills.